Περιγραφή
Newly formulated in accordance with the latest REACH
regulations and requirements , ECO MAX ink is the latest
generation of Eco solvent inks made by Sioen DigitalTM. The
ECO MAX inks are safe to use in an unventilated environment
( cyclohexanone, isophorone , and NEP free) thanks
to their low odour and non-toxic rating.
The color gamut is similar to the OEM inks with even better
properties such as adhesion, drying time , flow and chemical
resistance. Sioen DigitalTM ECO MAX inks offer great
performance on a wide variety of standard substrate, even
at high speed printing.
ECO- SOLVENT INKS FOR:
RolandTM: Soljet and Versacam and other printers using the
original Eco Sol Max inks
MutohTM: Phoenix E, RockhopperI, II, III & Valuejet
EpsonTM: DX4, DX5, DX6, DX7 based printers
Sioen Digital TM ECO MAX is fully compatible with
RolandTM Eco Sol Max , and MutohTM Eco Ultra inks. There is
no need to flush or spend costly time creating new profiles.
You can replace your OEM ink with individual cartridges or
replace with a complete set of Sioen DigitalTM Eco Max ink.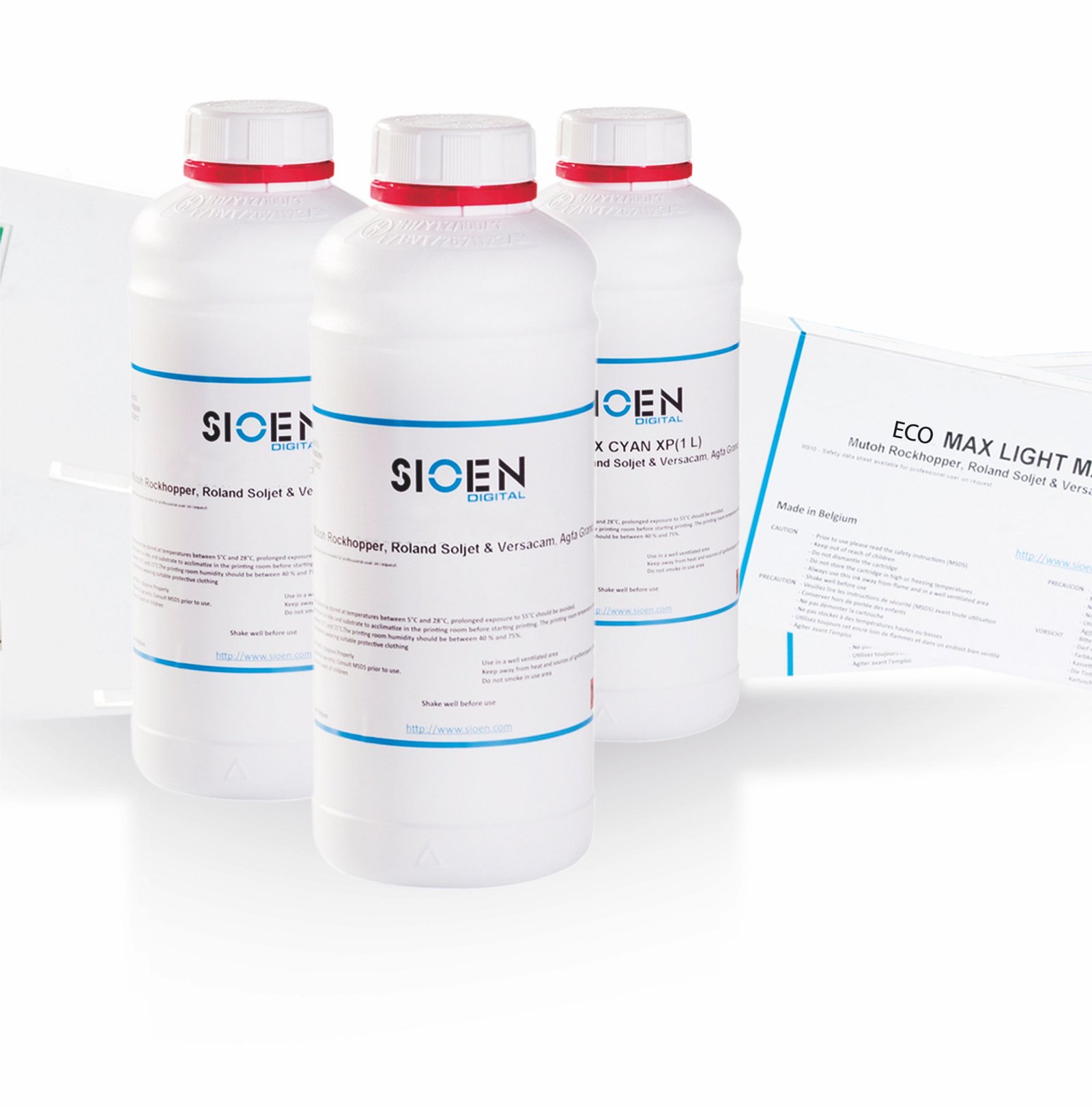 FEATURES AND BENEFITS
Sioen Digital has designed the ECO MAX Inks to interact perfectly with the Printer:
Reduce significantly cost of printing without sacrificing time and quality
Ink stability
Color gamut similar to OEM
Ink compatibility with OEM
Outdoor durability without lamination: 24 months
Original profile can be used
100% compatibility with original printer components
Will not cause clogging and misfiring
No need to use mechanical ventilation
Small particle size for keeping the print-heads clean
(Average size lower then OEM)
Optimal drying time compatible with high speed
printing modes
Excellent adhesion and compatibility with wide range
of coated and uncoated substrates
Strict quality control procedures to ensure consistent
and reliable products
Environmental friendly, low odor
NEP free, ensuring longer print head life time
APPLICATIONS:
ECO MAX can be used for indoor and also for most outdoor applications requiring light-fastness and/or water resistance.
SPECIFICATIONS:
COLORS:
Cyan, magenta, yellow, black, light cyan, light magenta
PACKAGING:
440ml chipped cartridges, 1L bottles
PRINTER COMPATIBILITY:
Mutoh™: Phoenix E, Rockhopper I,II,III & Valuejet
Roland™ : Soljet & Versacam and other printers using
the original Eco Sol Max inks
Epson™ DX4 , DX5 , DX6 , DX7 based printers
SUBSTRATE COMPATIBILITY:
Compatible with all standard substrates available on the market
PRINTING ENVIRONMENT:
Temperature: 18°-30°C (65°-86°F);
Relative Humidity: 20% to 70% (non-condensing)
STORAGE TEMPERATURE:
Temperature: 0°-35°C (50°-86°F); Relative Humidity: 20% to 70%
SHELF LIFE:
12 months from production date
SAFETY DATA
– please refer to MSDS