Περιγραφή
The new TRANSFER JET ink from Sioen DigitalTM is a
high quality water based Dye-Sublimation ink intended
for printing with heat transfer papers. TRANSFER JET is
manufactured with high quality dyes preventing dye
migration and bleeding.
Thanks to nano technology it is ideal for medium and large
format printers and it fully exploits their productive
capacities. Printing speed, fast drying, reliability and
consistency meet the criteria of industrial production.
With the Sioen DigitalTM TRANSFER JET you can also print
onto Light and/or Low coated paper.
This environmentally friendly ink generates outstanding
color vibrancy due to the high colour concentration,
delivers an excellent drying speed of the printed paper
and an excellent transfer capacity.
TRANSFER JET is compatible with all printers equipped
with EpsonTM DX4, DX5, DX6 and DX7 print heads.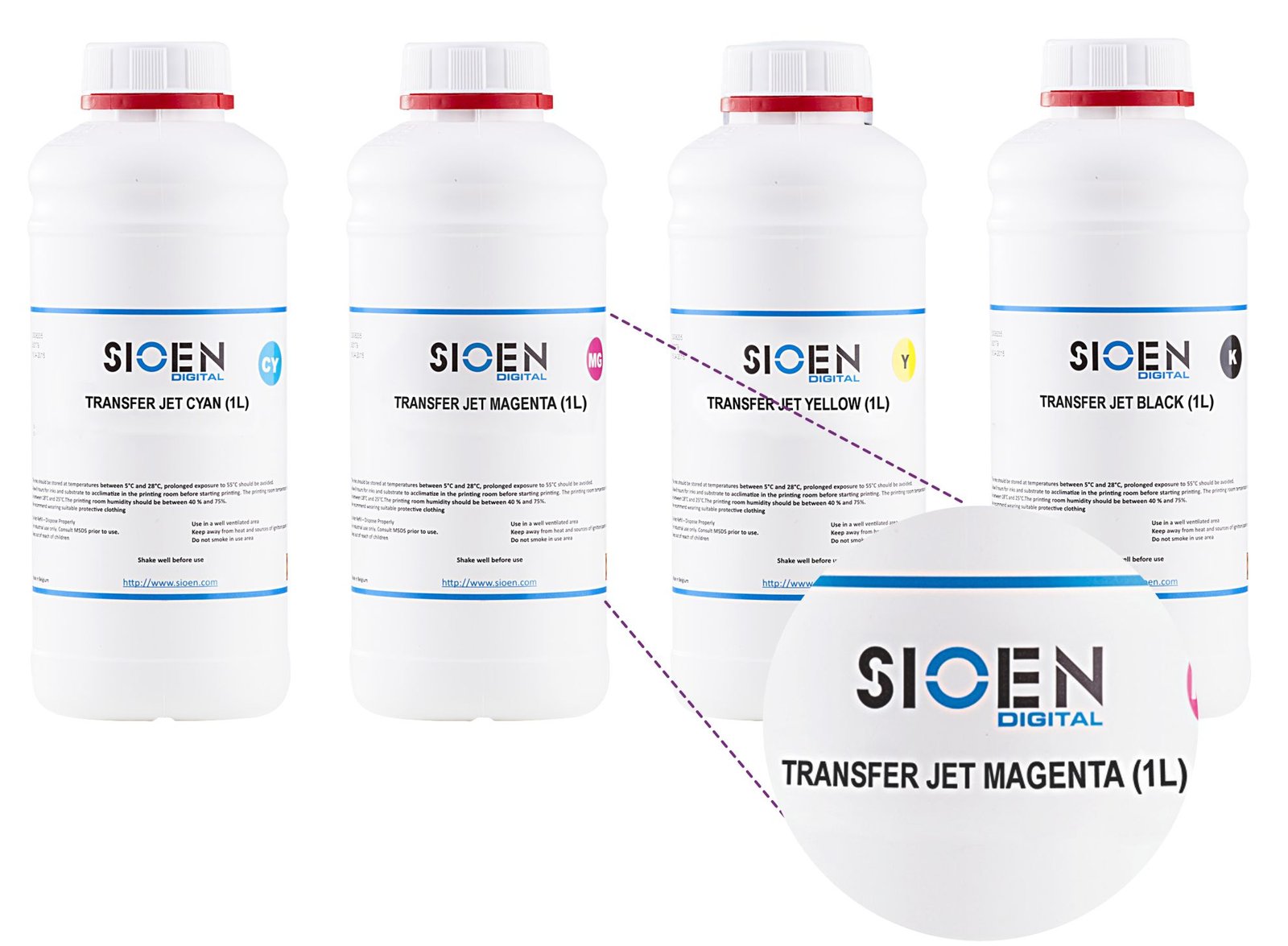 FEATURES AND BENEFITS
Sioen Digital™ has designed the TRANSFER JET to interact perfectly with EpsonTM DX4, DX5, DX6 and DX7 based printers:
• Ink stability
• Excellent transfer capacity
• 100% compatibility with original printer components
• High chromatic performance
• Will not cause clogging and misfiring
• Ultra small particle size for keeping the print-heads clean (Average size lower than OEM)
• Optimal drying time compatible with high speed printing modes
• Strict quality control procedures to ensure consistent and reliable products
• Excellent drying time of the printed paper
• High color concentration
• Eco friendly : free from Alkylphenolethoxylate ( APE)
APPLICATIONS:
• Developed for printing onto light and/or low coated papers
• Ideal for transferring onto synthetic fabrics (polyester)
• Polyester, polyamide fabrics and mixed synthetics fabrics (min. 80% of synthetics fibres)
• Sportswear and outwear, fashion garments and accessories, soft signage, home decoration
SPECIFICATIONS:
PACKAGING:
1L bottles
PRINTER COMPATIBILITY:
EpsonTM DX4, DX5, DX6 and DX7 based printers
STORAGE TEMPERATURE:
It is recommended to keep the product away from light
and heat sources at a temperature lower than 25° C.
SHELF LIFE:
12 months from production date.
SAFETY DATA:
Please refer to MSDS.
PRINTING ENVIRONMENT AND CONDITION:
It is recommended to let the product reach operative
condition in terms and humidity at least 24 hours
prior to use, taking care of not stirring it, and apply
the product under controlled condition:
• Recommended temperature range : 20-25%
• Recommended humidity range: 40-60%
The printed paper must be transferred hot, through
calender or press, at a temperature between 180-220°C.
Time can vary between 30-180 seconds.